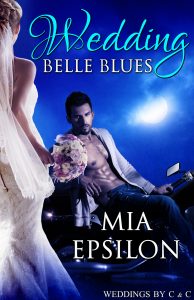 "About Wedding Belle Blues:
What do you do when the woman you love is marrying the wrong man? Sabotage the wedding!
Anna is planning the perfect wedding, but she doesn't anticipate her future mother-in-law's offer of help which translates into take over. Her groom-to-be avoids her and insists their growing problems are just 'bridal nerves'. Worst of all, her best friend, Robin, begins to act strange. Everyone around her has his or her own agenda. What's a girl to do when she begins to realize the perfect life she envisioned is all a lie?
Robin has two great loves in his life: his best friend Anna and his motorcycle. Not one to make a scene, he supports Anna in her plan to marry the wrong man and regrets she can't accept his 'daredevil' lifestyle. But when push comes to shove, he's more than willing to make the necessary sacrifice and prove he is the man she needs.
As the wedding date grows closer and plans shift into high gear, Robin and Anna grow closer and not just as friends. Each must decide what the perfect life truly means while trying to negotiate the maze of wedding plans, secrets, and hidden motives. Will someone be left singing the blues?
Targeted Age Group: Adult
Written by: Mia Epsilon
Illustrated by: Victoria Miller
Buy the ebook:
Buy the Book On Amazon
Buy the Book On Barnes & Noble/Nook
Buy the Book On Smashwords
Buy the Book On Apple Books
Buy the Book On Kobo
Author Bio:
Writing is a passion. Reading is a bigger one. When I'm MIA or can't be found, search a cozy nook, a quiet green garden hideaway, or a closet lit by flashlight to find me. When the Zombie Apocalypse rages, I'm holing up at Barnes and Noble. Everything I need is there: coffee, scones, comfy chairs, and most of all, lots and lots of books.
I'm hopeless, helplessly, addicted to coffee and chocolate. I haunt a local shop, The Chocolate Fetish. I've been known to share, grudgingly, with a new book boyfriend. If the Tardis ever appears, and I have great faith one day it will, I've plenty of jammy dodgers and tea.
"We're all stories so make yours a good one."
Follow the author on social media:
Learn more about the writer. Visit the Author's Website
Facebook Fan Page
Twitter
This site contains affiliate links to products. We may receive a commission for purchases made through these links.