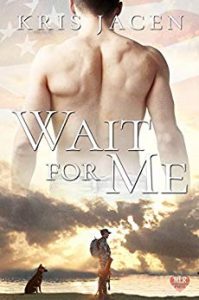 "About Wait For Me:
The hardest job is waiting.
Master Sergeant Jeff "Mackey" MacNamara has been waiting for THE ONE for years. First it wasn't too safe to find a partner and now his schedule is a nightmare with training soldiers and deployments.
Scott Ash has found where he always was meant to be after a brief bout of idealistic do-gooder after college. He loves his job as a child care director, if he could just find someone to love — perfect might cover it.
A chance meeting when Scott is doing a favor for a friend starts them on a journey that could take them to forever, it's just a matter of waiting.
Targeted Age Group: 18+
Written by: Kris Jacen
Buy the ebook:
Buy the Book On Amazon

Author Bio:
Kris Jacen grew up just north of Boston, Massachusetts, met her soldier in high school but didn't marry him until almost ten years later. She moved around with him and their daughters (born in two different states thanks to the Army) for the first 19 years of their marriage (they celebrated their silver anniversary in 2018) before settling in western New York.
She has been the Editor in Chief and Formatting Director for ManLoveRomance Press and its imprints since January of 2008 and has never looked back. Working with the amazing authors at MLR has allowed her to both hone her editorial skills and indulge her inner fangirl. She also acts as editor, mentor and sounding-board for newcomers which lets her "pay-it-forward" and help authors realize their dreams.
Follow the author on social media:
Learn more about the writer. Visit the Author's Website
Facebook Fan Page
Twitter
This site contains affiliate links to products. We may receive a commission for purchases made through these links.