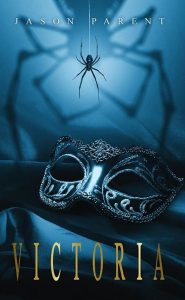 "About Victoria:
Victoria Menard has had a hard life. She's an orphan and a thief… and perhaps even a murderer. Worst of all, her only friend is a talking spider named Chester that lives in her head.
For the last eight years, Victoria and Chester have traveled the world, seeing the sights, learning half a dozen languages, and terrorizing communities indiscriminately. Now sixteen, Victoria wants her independence. But the parasite inside her won't let her go.
Chester has big plans, but Victoria's brain may no longer be big enough for the both of them. How can a girl rid herself of an unwanted guest when that guest refuses to leave?
Victoria is a stand-alone novel set in the same universe as the novel, What Hides Within.
"The book is terrifying in the most fundamental way. I twitched and squirmed my way through each page." – Pop Horror on What Hides Within
Targeted Age Group: 14-21
Written by: Jason Parent
Buy the ebook:
Buy the Book On Amazon

Buy the Print Book:
Buy the Book On Amazon
Author Bio:
Jason is an author of horror, thrillers, mysteries, science fiction, and dark humor, though his many novels, novellas, and short stories tend to blur the boundaries between these genres. From his award-winning first horror/mystery novel, What Hides Within, to his widely applauded police procedural/supernatural thriller, Seeing Evil, Jason's work has won him praise from both critics and fans of diverse genres alike. His work has been compared to that of some of his personal favorite authors, such as Chuck Palahniuk, Jack Ketchum, Tess Gerritsen, and Joe Hill.
Jason grew up near Fall River, Massachusetts, the setting for several of his novels. He has lived in New England most his life, currently residing in Rhode Island.
Follow the author on social media:
Learn more about the writer. Visit the Author's Website
Facebook Fan Page
Twitter
This site contains affiliate links to products. We may receive a commission for purchases made through these links.