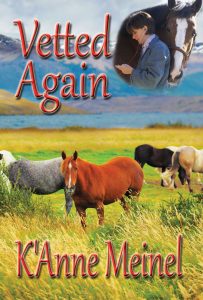 About Vetted Again:
Allyssa Herriot and her wife Fiona are experiencing growing pains in this marriage of theirs. From the large animal practice they established on their ranch, to the horse rescue, to their growing family…all will put strains on the marriage as well as themselves physically, emotionally, and economically. Add in outside influences like the well-meaning friends, family, and volunteers and these things can add to the stress.
Trying to make a living on the remote ranch is hard enough, but in this modern day and age keeping up on the latest technology and ideas can motivate some and keep others from venturing outside of their comfortable little nest.
Will Allyssa and Fiona rise above the problems or fail not only at their marriage but at the businesses they have established together?
Join the continuing saga, a ranch, a rescue, a thriving veterinary practice and their lives as they juggle the things they are building together for themselves and their growing family.
Buy the ebook:
Buy the Book On Amazon
Buy the Book On iBooks/iTunes
Buy the Book On Kobo

Author Bio:
K'Anne Meinel is a fiction bestselling author with more than 99 published works including shorts, novellas, and novels. She is an American author born in Milwaukee, Wisconsin and raised in Oconomowoc. Upon early graduation from high school she went to a private college in Milwaukee and then moved to California for seventeen years before returning to the state. Many of her stories have Wisconsin in them as settings for her wonderful, realistic, and detailed backgrounds. Called the Danielle Steel of her time, K'Anne continues to write interesting stories in a variety of genres in both the lesbian and mainstream fiction categories. K'Anne is also the publisher and owner of Shadoe Publishing and in December 2017 she started the Lesfic Bard Awards.
Follow the author on social media:
Learn more about the writer. Visit the Author's Website
Facebook Fan Page
Twitter
This site contains affiliate links to products. We may receive a commission for purchases made through these links.