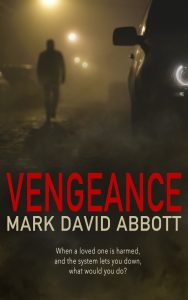 "About Vengeance:
When a loved one is harmed, and the system lets you down, what would you do?
John Hayes' life is perfect. He has a dream job in an exotic land, his career path is on an upward trajectory and at home he has a beautiful wife whom he loves with all his heart.
But one horrible day a brutal incident tears this all away from him and his life is destroyed.
He doesn't know who is to blame, he doesn't know what to do, and the police fail to help.
What should he do? Accept things and move on with his life or take action and do what the authorities won't do for him?
What would you do?
Targeted Age Group: 16 plus
Written by: Mark David Abbott
Buy the ebook:
Buy the Book On Amazon
Buy the Book On Barnes & Noble/Nook
Buy the Book On Apple Books
Buy the Book On Kobo
Buy the Audio Book:
Buy the Print Book:
Buy the Book On Amazon
Author Bio:
Mark David Abbott was born in Cyprus but spent most of his formative years growing up in New Zealand. A love for travel has meant that he has spent much of his life living and working in different countries around the world and currently calls Hong Kong home.
Mark has worked variously as a barman, a factory hand, supermarket shelf stocker, and a real estate salesman, but now devotes his time to writing and traveling.
Mark is a keen runner and in between runs is slowly building an impressive collection of Gin.
Follow the author on social media:
Learn more about the writer. Visit the Author's Website
Facebook Fan Page
This site contains affiliate links to products. We may receive a commission for purchases made through these links.