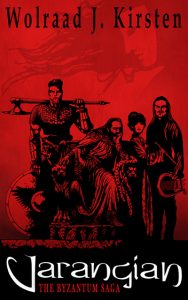 "About Varangian: Book One of the Byzantum Saga:
We are in the midst of a true "Game of Thrones", or "Contest of Power" and THEY have subverted our destiny. THEY have stolen our future. This game is unimaginably ancient, the endless ruins pockmarking the Old World and Fertile Crescent is testimony as to their successes. THEY celebrate the high score they ranked up through the Millennia. It is time to learn their rulebook. Know the strategies of the Game and finally change the score. "Varangian" is a fantasy exploring whether heroism is enough to save a society peeling apart from decadence and treachery.
BYZANTUM–the once crown jewel of the civilized world is now a mere hedonist's playground. Her most able general and statesman, Almuric Agricola, discovers this terminal decadence is engineered by a near-omnipotent shadow group having infiltrated the corridors of power and bent on the slaughter of the citizenry before seizing the Capitol. Almuric attempts to oust this indomitable evil, yet is branded a madman and exiled by a traitorous bureaucracy to a mountain fortress in the desert. Whispers reach the Capitol that Almuric is harboring a mysterious princess of tremendous interest to the clandestine group and that he also employed the services of an infamous Varangian guardsman–a giant Northman mercenary. Like moths to the flame their forces coalesce upon his desolate fortress. Almuric and his barbarian axe-man are waiting–and the desert shall be awash with blood to determine who gets to keep the jewel that is Byzantum.
Targeted Age Group: 18+
Written by: Wolraad J. Kirsten
Buy the ebook:
Buy the Book On Amazon
Buy the Print Book:
Buy the Book On Amazon
Author Bio:
Wolraad J. Kirsten was born in Southern Africa in the early 1980's where he grew up and went on to pursue his formal education in Film Studies at Kingston University in Surrey, London. He is also a keen student of history, politics and philosophy, which feature prominently in his writings. Apart from novels, his writing also extents to screenplays and he occasionally dabbles in acting. He is an avid traveler and resides in the Far East for the time being.
Follow the author on social media:
Learn more about the writer. Visit the Author's Website
Twitter
This site contains affiliate links to products. We may receive a commission for purchases made through these links.