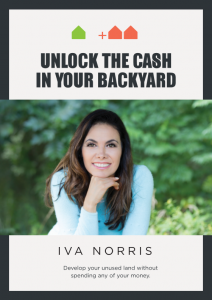 About Unlock the Cash in Your Backyard: Develop Your Unused Land Without Spending Any of Your Money:
If you have excess land in your backyard, you can develop that land for a profit – and you can do it without spending any of your own money. In Unlock the Cash in Your Backyard, property development expert Iva Norris walks you through a seven-step guide to subdivide and develop your land.
You'll learn how to:
– Determine if it's financially viable to subdivide and develop your property.
– Negotiate with your local council to obtain the best outcome for your development.
– Select the right team of professionals to guide you through the process.
– Understand when to cash out of your development for maximum profit.
Buy the ebook:
Buy the Book On Amazon
Buy the Book On Barnes & Noble/Nook
Buy the Book On Kobo

Author Bio:
Iva Norris is the founder and director of Premier Property Developments, which specialises in local real estate investments and developments. She has invested in property in Australia, the United States and Brazil.
Drawing on her vast experience in vendor finance, property development and buying and selling commercial and residential real estate, Iva wrote Unlock the Cash in Your Backyard to help owners unlock the hidden treasure in their backyards and achieve their financial dreams.
Follow the author on social media:
Learn more about the writer. Visit the Author's Website
Facebook Fan Page