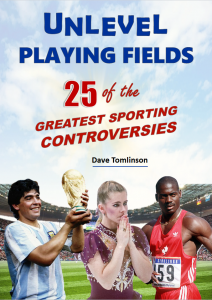 "About Unlevel Playing Fields – 25 of the Greatest Sporting Controversies:
From as long as sport has been played, it has always evoked great passion and emotion. Human error will always be a factor but nothing infuriates fans like officiating blunders and blatant cheating. And nothing arouses curiosity and unabated feeling more than circumstances so unusual that nobody is quite sure how the moment will be resolved. Welcome to a captivating journey through some of the greatest sporting controversies in history. These are the fascinating backstories and consequences of not only the most debatable moments in sport, but also some of its most scandalous characters.
Targeted Age Group: 18-80
Written by: Dave Tomlinson
Buy the ebook:
Buy the Book On Amazon

Author Bio:
My name is Dave Tomlinson. I'm from New Zealand and now living in Brisbane, Australia. My life passions are travel, outdoor adventure, sport and writing.
I have travelled through over 50 countries and completed several long distance hikes including the epic Bibbulmun Track in Western Australia and Camino de Santiago in Spain. After writing the budget travel guide 'Travel Unravelled' I then documented my travel stories in 'Around the World in 80 Tales'. I blog about my travel and assist other travellers on my Step Ahead Travel website. It's my dream to eventually travel 100 countries and go to every continent on the planet.
My first sports book 'Days of Miracle and Wonder' describes 25 of the most incredible sporting victories brought about by amazing comebacks and painful chokes. This was followed by 'Unlevel Playing Fields' which tells the dramatic stories behind 25 of the greatest sporting controversies. The latest publication in this fascinating series 'Excellence in Motion' relates the courage, respect and sacrifice displayed in 25 of the finest acts of sportsmanship.
This site contains affiliate links to products. We may receive a commission for purchases made through these links.