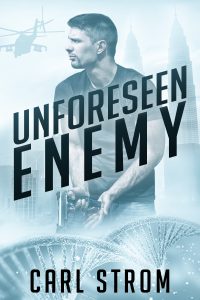 "About Unforeseen Enemy:
The stakes are always high for Jack Shaw, a sniper and intelligence operative for the Global Intelligence Agency. But now, following the death of his partner during a botched GIA mission, the stakes have never been more personal. Jack missed his target the first time. Was the mistake purely human, or is he losing his grip?
Now he'll get the chance to find out. Paired with the far younger operative Yi Ling, Jack embarks on a deadly follow-up mission to track down the Romanian criminal that evaded his crosshairs.
But when their target is revealed to be merely the tip of the iceberg in a much more sinister scheme, they must confront an even greater evil—a corrupt sociopath named Wong. This twisted mastermind controls what he claims to be the holy grail of human genetic engineering.
In a manhunt spanning the globe, Jack and Yi face the riskiest test of their careers as the murders multiply and trusted friends become sworn enemies. Against the cinematic backdrop of Singapore, Jack and Yi barrel toward an epic showdown with Wong that will determine whether his homicidal technology is unleashed on a massive scale that could alter the course of human history.
Buy the ebook:
Buy the Book On Amazon

Author Bio:
To learn more about Carl Strom, visit his website and blog at www.authorcarlstrom.com, hit him up on www.facebook.com/Carl-Strom-160538677977873, or follow him on Twitter @authorcarlstrom.
Carl reckons that the seed for his storytelling ambitions was sown when he was a kid. The classic tale: schoolteacher puts student on the spot by making him read his writing aloud. Other interests would emerge during summer breaks, when he would design tree houses and project manage their construction.
Carl grew up in various countries, returning to the UK as a teen to study architecture at university in Bristol – the hometown of world-renowned graffiti artist Banksy. Carl became an award-winner within the field of architecture, and a literary giant person, standing just under two meters tall (roughly six feet, seven inches)—his books are for others to judge.
While writing his Urban Design Master's Thesis in London on crime prevention, he befriended a police officer. Despite his best efforts, he wasn't able to glean the kind of knowledge that could be used for a novel. Turns out that "Designing Out Crime" Police Officers know far more about residential layouts – oddly enough – than juicy murder investigations.
Carl currently lives in Sweden, where he works as a creative tech expert in urban planning, in addition to being an entrepreneur. He promises to keep the words coming on a regular basis.
Follow the author on social media:
Learn more about the writer. Visit the Author's Website
Facebook Fan Page
Twitter
This site contains affiliate links to products. We may receive a commission for purchases made through these links.