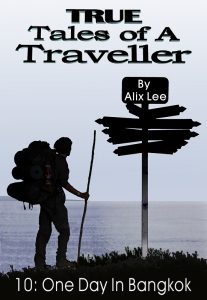 "About True Tales of a Traveller: One Day in Bangkok:
True Tales of a Traveller is a series of short stories and novellas consisting of several dozen traveller's tales covering 35 years. Although presented in a short story format for reading convenience, these stories are not fiction. Apart from some of the characters' names which have been changed to protect their identities, everything in these stories is true.
The tenth story in the True Tales of a Traveller series, One Day in Bangkok is set in Thailand and the Netherlands in the mid-1980s. It's a story of an ambitious travel plan thwarted by the kind of seasoned tricksters who prey on tourists anywhere in the world where the volume of foreign visitors makes it worthwhile to devise schemes to relieve them of their finances. At least one of the schemes detailed in the story is still in use today, though perhaps in a slightly different form. This true account serves a reference and a warning, just as valid for travellers who have been on the road for years as it is for those setting off overseas for the first time.
Targeted Age Group: adult
Written by: Alix Lee
Illustrated by: Alix Lee
Buy the ebook:
Buy the Book On Amazon

Author Bio:
I am an ROC (Taiwan) citizen, born and bred in the UK. I began travelling in 1981 and soon found I didn't want to go home. I used to write a lot as in my late teens (pre-Internet, so nothing available in digital form) and am now 'making a comeback'! In the intervening years (decades rather), my artistic pursuits have been more oriented towards visual arts, as can be seen on my personal website.
At present I'm working on several projects, the biggest of which is the True Tales of a Traveller series. This relates some to the more interesting experiences in 35 years of travelling. Each of the stories in the series is priced at between $0.99 and $2.99, according to length, with free periods and discounted periods arranged for each whenever possible. The full series will also be published in paperback in a number of volumes. Any feedback appreciated!
Follow the author on social media:
Learn more about the writer. Visit the Author's Website
This site contains affiliate links to products. We may receive a commission for purchases made through these links.