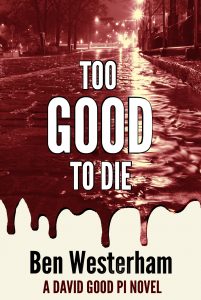 About Too Good to Die:
She's lost in the land of the living. He's desperate to keep her from the land of the dead. London based PI David Good finds his emotions being taken on a roller-coaster ride he wasn't expecting, as he races to save a desperate woman from herself.
Crime fiction with attitude and humour from 1980s London.
Buy the ebook:
Buy the Book On Amazon
Buy the Book On Barnes & Noble/Nook
Buy the Book On Smashwords
Buy the Book On iBooks/iTunes
Buy the Book On Kobo

Author Bio:
Ben is the author of the David Good, Private Investigator stories. Set in London during the 1980s, they follow the adventures of a PI in tune with his neck of the woods and in possession of some distinctly pliable morals. All come served with a side-order of attitude and humour.
Ben was born in London and now lives in rural Northamptonshire in central England with his family and a heavily over-worked computer.
Follow the author on social media:
Learn more about the writer. Visit the Author's Website
Facebook Fan Page