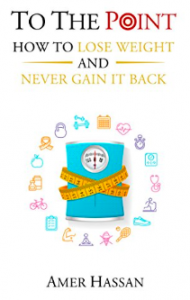 "About TO THE POINT: HOW TO LOSE WEIGHT AND NEVER GAIN IT BACK (To The Point: HOW?):
– Being overweight is nothing to joke about.
– Obesity is a serious disease! that could potentially kill you! Inside you will know why?
– Losing weight is easy if you're willing to stick at it
– Understand that there will be ups and downs along the way
– The purpose of this book is to provide you with a true understanding of overweight and, more importantly, how to get rid of it for good!
– It could be that you're just carrying a few extra pounds, however, they have a habit of creeping up on you, and, before you know it, you've gained several pounds.
– Know why you are not losing weight!
– and a lot more!
Targeted Age Group: All
Written by: Amer Hassan
Buy the ebook:
Buy the Book On Amazon
Link to Series: https://www.amazon.com/dp/B078NTC6L4

Author Bio:
Amer Hassan,
Physician interested in promoting health and avoiding drugs and unsafe practice.
This site contains affiliate links to products. We may receive a commission for purchases made through these links.