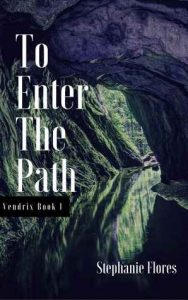 "About To Enter the Path:
–FREE UNTIL MONDAY 2/11–
"Filled with incredible fight scenes, cryptic characters and a few often useless yet lovable characters, this book is worth checking out if you love a good action-packed story and lots of mystery and questions!" ~Underground Book reviews
"A solid read for lovers of fantasy. The author does a wonderful job weaving a compelling world and creating complex characters." ~ More Than Just Romance Reviews
A Vendrix is born. These are mortals that know all spells and enchantments, without having picked up a spell book all their lives. Normally, such power would be drool-worthy, but in this case, it means to be possessed by a demon that's just using a body as a conduit.
For the townspeople, a beloved family member will now crave carnage and kill siblings and strangers alike.
For the person possessed, they barely last a day before sharpened pitchforks are used against them.
But a drunken minstrel's foreseen a Vendrix that can actually control the demon. Such a weapon seems to be the only thing that can annihilate the sorcerer that's been wreaking havoc everywhere.
Zendra's denying that she's the Vendrix, despite the fact that she just massacred a horde of wizards with no more exertion of energy than a yawn. Regardless, she's enlisted by three men wanting to attempt the deadly path to the sorcerer, for fame, adventure, or vengeance.
Now, Valen, an arrogant yet charming wizard prodigy, Brevle, a wise-cracking warrior, Wulard, owns a map (sorry, that's all he contributes), and Zendra, still unsure if she's more of a threat to them than the obstacles, must band together, quiet their pessimism, and will their legs to forge through the Path of Fatality.
Targeted Age Group: 13-18
Written by: Stephanie Flores
Buy the ebook:
Buy the Book On Amazon
Author Bio:
Stephanie Flores was born, and still continues to live in Miami, Florida with her husband and pain-in-the-neck mutt. When she's not swatting the thousands of mosquitoes in the area, she's teaching science and art to middle school students. What better person to envision a fully imaginary world than someone who teaches pre-teens all day? As a child, her obsessions were turtles, dragons, bats, Greek mythology, and pizza—not much has changed in adulthood.
Follow the author on social media:
Facebook Fan Page
This site contains affiliate links to products. We may receive a commission for purchases made through these links.