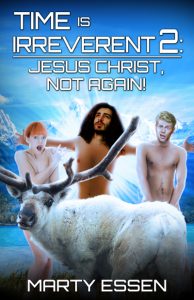 "About Time Is Irreverent 2: Jesus Christ, Not Again!:
Marty Mann and Nellie Dixon are back for another irreverent, liberal, twisty, time-travel comedy! This time they have Jesus Christ, the actual guy, on their side.
This thought-provoking satire answers the question, "What would happen if Jesus time traveled to 2020 America?" Would the Soldiers of the White Jesus and other far-right groups accept a profanity-loving, gun-hating, brown-skinned Jesus who preached in favor of liberal values? Find out in this hilarious sequel to the Amazon #1 Best-Seller.
Jesus Christ, Not Again! is the second book in the Time Is Irreverent series. Each novel is a stand-alone adventure, and a humorous prologue quickly gets readers up-to-date.
Targeted Age Group: 18+
Written by: Marty Essen
Buy the ebook:
Buy the Book On Amazon
Buy the Audio Book:
Buy the Book On Amazon
Buy the Book On Audible
Buy the Print Book:
Buy the Book On Amazon
Author Bio:
Marty Essen began writing professionally in the 1990s, as a features writer for Gig Magazine. His first book, Cool Creatures, Hot Planet: Exploring the Seven Continents, won six national awards, and the Minneapolis Star-Tribune named it a "Top Ten Green Book." His second book, Endangered Edens: Exploring the Arctic National Wildlife Refuge, Costa Rica, the Everglades, and Puerto Rico, won four national awards. Marty is also a popular college speaker. He has performed the stage-show version of Cool Creatures, Hot Planet on hundreds of campuses, in forty-five states. Marty's latest books, Time Is Irreverent and Time Is Irreverent 2: Jesus Christ, Not Again! are science-fiction political-comedies. The switch in genres doesn't mean a switch in ideals. Like all of Marty's books, they reflect his values of protecting human rights and the environment–and do so with a wry sense of humor.
Follow the author on social media:
Learn more about the writer. Visit the Author's Website
Facebook Fan Page
Twitter
This site contains affiliate links to products. We may receive a commission for purchases made through these links.