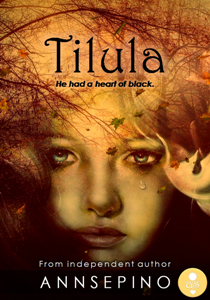 "About Tilula:
Once upon a time, there was a man called INDRI. He was the son of the frog king, and had the features to prove it. Because he was feared for his appearance, his unloved heart hardened and turned black as a frog's.
Once upon a time, there was a lady called TILULA. She was the daughter of a merchant and older sister to his favorite son. She was rarely ever appreciated due to being a woman, but this never stopped her from loving those who needed to be loved.
Through fate and by the merchant's own doing, Indri and Tilula are thrown together. It is in the forest that he first sets eyes on her beauty. It is in his villa that she first glimpses his wounded soul.
Can a heart of gold heal one that's tainted black?
Targeted Age Group: age 12 and above, teens and young adults
Written by: Ann Sepino
Buy the ebook:
Buy the Book On Amazon
Buy the Book On Barnes & Noble/Nook
Buy the Book On Smashwords
Buy the Book On Apple Books
Buy the Book On Kobo
Author Bio:
"Fairy-tale fantasies for the heart."
Hello everyone! My name is Ann, and I am an independent Filipino author with a passion for poetry and writing. My love for writing began at five years old, when I drew a picture book as part of my kindergarten project. My fascination with romance novels began at fourteen. I lean towards creating female protagonists with characteristics such as loyalty, longevity and inner strength, much like the sunflower depicted in my logo.
I love writing about knights-in-distress and damsels-in-shining-armor. I also enjoy referencing and incorporating Filipino or Asian culture into my stories. When I'm not writing in my notebook or typing on my laptop, I'm probably binging on anime, drawing on my sketch pad or killing it at karaoke.
This site contains affiliate links to products. We may receive a commission for purchases made through these links.