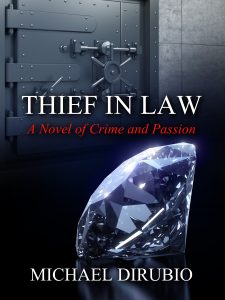 About Thief in Law:
Stealing has always been easy fro Michael Davidson. It is real life that is difficult. The Thief in Law (the title the Russian mob gives its most successful thief) realizes his boss is setting the gang for the FBI. Davidson must use all his cunning to plan two major heists, avoid the FBI and the mob all the while trying to keep his new girlfriend at a distance. The twists and turns keep the reader guessing until the final page.
Buy the ebook:
Buy the Book On Amazon
Buy the Book On Barnes & Noble/Nook
Buy the Book On iBooks/iTunes
Buy the Book On Kobo

Author Bio:
Michael Dirubio is a new author on the scene exploring several genres. Science fiction, Thrillers and even young adult fantasy have all been categories of his works. After twenty years o board nuclear submarines, a job being in polite company was out of the question. A life long love affair with books led the author to discover he could actually write! Mr. Dirubio lives in the bay area with his long suffering wife and they do like to travel when the opportunity arises.
Follow the author on social media:
Learn more about the writer. Visit the Author's Website
Twitter