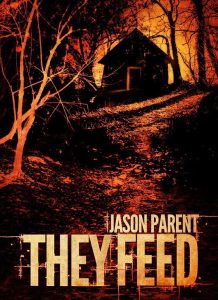 About They Feed:
The night uncovers all we wish not to see.
A troubled man enters a dusky park before sunset. A young woman follows, hidden in shadow. Both have returned to the park to take back something the past has stolen from them, to make right six long years of suffering, and to find justice or perhaps redemption—or maybe they'll settle for some old-fashioned revenge.
But something evil is alive and awake in those woods, creatures that care nothing for human motivations. They're driven by their own insatiable need: a ravenous, bottomless hunger.
The campgrounds are full tonight, and the creatures are starving. Before the night is over, they will feed.
An unrelenting tale of terror from Jason Parent, acclaimed author of People of the Sun and What Hides Within.
Buy the ebook:
Buy the Book On Amazon

Author Bio:
In his head, Jason Parent lives in many places, but in the real world, he calls New England his home. The region offers an abundance of settings for his writing and many wonderful places in which to write them. He currently resides in Rhode Island.
In a prior life, Jason spent most of his time in front of a judge . . . as a civil litigator. When he wanted a change, he traded in his cheap suits for flip flops and designer stubble. The flops got repossessed the next day, and he's back in the legal field . . . sorta. But that's another story.
When he's not working, Jason likes to kayak, catch a movie, and travel any place that will let him enter. And read and write, of course–he does that too sometimes.
Please visit the author on Facebook at https://www.facebook.com/AuthorJasonParent?ref=hl, on Twitter at https://twitter.com/AuthorJasParent, or at his website, http://authorjasonparent.com/, for information regarding upcoming events or releases, or if you have any questions or comments for him.
Follow the author on social media:
Learn more about the writer. Visit the Author's Website
Facebook Fan Page
Twitter