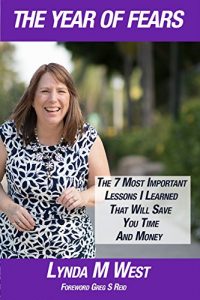 "About The Year of Fears: The 7 Most Important Lessons I Learned That Will Save You Time and Money:
Fear is debilitating. Fear holds us back from attaining the success we want. Fear is a life-stealer. What if I were to tell you that you can get more out of your life by confronting your fears? What if I were to tell you that fear is all that is stopping you from becoming all that you can be?
Some very common fears (you are NOT alone) include, but are not limited to:
-fear of rejection
-fear of success
-fear of failure
-fear of judgment (this used to be my biggest fear)
-fear of speaking on stage
-fear of the future
-fear of money (or lack thereof)
-fear of homelessness
-fear of starting
-fear of technology
-fear of sounding stupid
What is one thing you can do today that you are afraid of doing, but you know you need to do in order to change your life? Now get out there and do it!
Targeted Age Group: 18+
Written by: Lynda West
Illustrated by:
Buy the ebook:
Buy the Book On Amazon

Author Bio:
My life has definitely changed since that January morning in 2015 and I'm so glad I decided to do it AND actually went through with it. I didn't let fear stop me, and I am here to help you not let your fear stop you.
Follow the author on social media:
Learn more about the writer. Visit the Author's Website
Facebook Fan Page
Instagram
This site contains affiliate links to products. We may receive a commission for purchases made through these links.