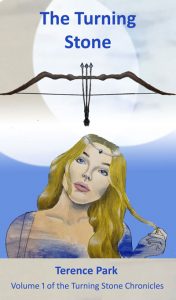 "About The Turning Stone:
For thousands of years a closely guarded secret has been kept safe. It concerns a pact made to bind the peoples of Earth into one race: man. Pre-human species used to war with each other and their powers were destructive; the only way to end this was to bind them together, by magic. The spell was hidden in a well-guarded artefact and safeguards were set to prevent it falling into the wrong hands, or so tradition tells. Ages have passed and humans grew together, developing a technological society; so legends of beings with great power are just that: legends. No Amazons, djinni, elementals or other more exotic types.
Westerners come to Uighuristan¹, archaeologists on vacation, with their reluctant teenaged offspring: Beni, Tinder Athene, Jak and Hunda who power up an old PC to check for information on an old stone with strange rune markings. They have found the Turning Stone. Their parents encounter Arshaana², a young housemaid, who needs urgent medical attention. But those who safeguarded the Turning Stone realise it is missing. This leads to trouble, forcing the Westerners to flee the country, taking Arshaana with them.
Once back home in NuWrld, a 3D printer is used to replicate the runestone and…
the spell that binds humanity together begins to unravel, threatening to destroy civilisation. Arshaana is sensitive to magical manifestation but can she save the day?
Targeted Age Group: 12 – 35
Written by: Terence Park
Buy the ebook:
Buy the Book On Amazon
Author Bio:
Terence grew up in Stoneyholme, Burnley (UK). As a teenager he developed a liking for SF and Fantasy – an escape from sink estate life. He qualified as an Accountant in 1990; his four children have grown and left home. With time on his hands, he began writing in 2009 to produce his first work, the unfathomable Guide to First Contact. He went on to publish an account of the last years of Burnley Grammar School and his poems are collected in Silt From Distant Lands. Terence's dystopian works often echo the places he has lived in, such as Writing Day and The Slow Holocaust. His latest SF novel: The Tau Device, is adventure and romance set on an alien world. At present he has two works that are 'good to go' and he is working on a third 'Men For The Stars'. The latter piece will feature the Mexican Wall as well as the newly independent state of Londany. SF buffs will recognise a nod to Heinlein in the title.
The Turning Stone grew out of an interest in ancient history and non-Western mythologies.
Follow the author on social media:
Learn more about the writer. Visit the Author's Website
Facebook Fan Page
Twitter
Instagram
This site contains affiliate links to products. We may receive a commission for purchases made through these links.