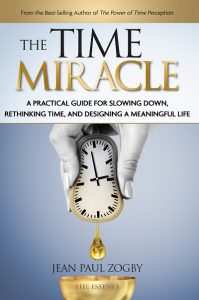 "About The Time Miracle: A Practical Guide to Slowing Down, Rethinking Time, and Designing a Meaningful Life:
You won the Lottery of Life by just being born!
The probability that you are alive today is one in 400 quadrillion.
The prize is a certain number of seconds, hours, days that you are given to live.
How are you going to spend your 'time' winnings?
How much time do you spend on sleeping, eating, and earning money?
You'll be surprised that you're left with just 7 years to enjoy life!!
How can you live life and be satisfied it was time well spent?
Rethinking time and Designing a more meaningful life
"The Time Miracle" will show you how.
Buy the ebook:
Buy the Book On Amazon

Author Bio:
Life is not the number of days you live, but the number of days your remember.
Jean Paul's current passion is to help people understand our priceless time, why it speeds up as we grow older, and how to slow it down to make the most of it.
With the last 6 years spent researching Time Perception in the fields of Neuroscience and Psychology, he is passionate about sharing what science has to say about our experience of time and ways to make every second count.
When not writing, Jean Paul composes soundtrack music for film, does research in astrophysics, and enjoys exploring the world.
A husband and father of two lovely daughters and a son, he currently resides in Dubai where he is the CEO on a multi-billion construction project.
For more details, visit the Official Website at http://www.jpzogby.com
Follow the author on social media:
Learn more about the writer. Visit the Author's Website
Facebook Fan Page
Twitter
This site contains affiliate links to products. We may receive a commission for purchases made through these links.