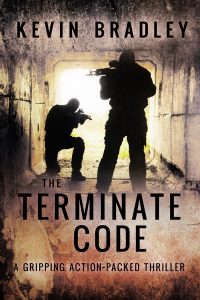 "About The Terminate Code:
Could you fire a bullet into your own head to save your family?
A ruthless, cold-blooded killer has come back from the dead. He isn't motivated by money, it's much worse than that. He's been fuelled by years of hatred and anger. And now he's come to collect what belongs to him. He'll stop at nothing to get it.
You probably don't want to get in his way!
This is a novel in the acclaimed Hedge & Cole thriller series.
Cole is a tough, ex-military man. He's the sort of person that trouble and danger seem to follow, wherever he goes. He can be ruthless when he needs to be. And he often finds the need.
Hedge is a reluctant hero. Plagued with anxieties and haunted by flashbacks. He's an enigma.
Together they must track down a dangerous assassin.
But all is not what it appears to be, and the shocking twist at the end will leave you breathless.
Kevin Bradley once again shows how to mix fast paced action, with suspense and intrigue. This book will have you on the edge of your seat from start to finish.
This book would sit well alongside your Lee Child and Jack Higgins favourites!
Targeted Age Group: 18+
Written by: Kevin Bradley
Illustrated by: Kevin Bradley
Buy the ebook:
Buy the Book On Amazon

Author Bio:
Kevin Bradley lives in England, and has travelled all over the world. He tries to bring many of his own personal observations and adventures into his novels.
The author spent all of his teenage years either at boarding school or living on military bases. The frequently exciting, and often cruel experiences from this period are clearly reflected in his writing.
Before turning to storytelling, Kevin had a successful business career and, as well as an Honours Degree in Social Economics, he also holds an MBA from the Edinburgh Business School.
When not writing he enjoys mountain biking, and road running.
Follow the author on social media:
Learn more about the writer. Visit the Author's Website
Facebook Fan Page
Twitter
This site contains affiliate links to products. We may receive a commission for purchases made through these links.