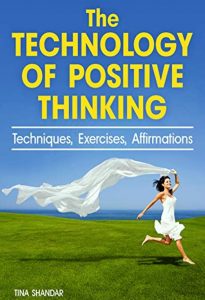 "About The Technology of Positive Thinking: Techniques, Exercises, and Affirmations:
Do you want a bright, sunny life? Do you want positive energy every day? Do you imagine yourself happy and successful?
In this new book, The Technology of Positive Thinking, you will learn new strategies for transforming your brain into a positive and optimistic entity. You will get to know very effective techniques for making your life sunny, happy, positive, optimistic, successful, and bright every day.
You will learn the secrets of positive psychology and transforming you mind, such as:
• How to get motivated in life every day
• Why you should always be positive
• The ten laws that must be respected
• How to change your mind with creative visualization
• The role of mental perseverance in positive thinking
• How to become a positive thinker (a model of positive thinking: goal, techniques, result)
• How to correct you own negative installations
• How to really live a happy life
Here is what you will receive from this great book:
• You will always be motivated;
• You will become a true positive thinker;
• You will always be optimistic;
• You will always be happy;
• You will always be successful;
• You will always be calm.
Targeted Age Group: G
Written by: Tina Shanda
Illustrated by:
Buy the ebook:
Buy the Book On Amazon

Author Bio:
Tina Shandar is a scientist-educator, head of the Culture of language department, writer, author of more than 150 scientific and popular works: monographs, manuals, textbooks, publications in the field of pedagogy, psychology, verbal communication, linguistics, rhetoric. Founder of communication and interactive center "Memoria" with main lines of work in development of rhetorical techniques and innovative technologies in the system of interpersonal communications. Head of the international project "Language face of the world" (partner of project – UNIVERSITY OF SOUTH FLORIDA, USA, TAMPA).
Tina is a professional speaker, lecturer, and teacher. Principal courses she teaches are "Rhetoric," "Positive rhetoric," "Language teaching technologies," "Communicative leadership competence". Her work experience is 22 years, with 18,000 classroom hours of lectures, seminars, and workshops.