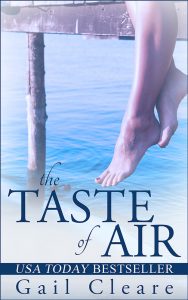 "About The Taste of Air:
USA Today Bestseller – Mary Reilly's had a secret lakeside cottage in Vermont for forty years. Nell and Bridget stumble across their mother's hideaway when she turns up in the hospital, far from home. Clues lead back to the Vietnam War, when Mary was a nurse in Saigon. Her retreat is a vault of family secrets never suspected, and the gateway to change for all three women.
"A captivating story filled with mystery, suspense, love, longing and family."
~Readers' Favorite (5 STARS – Silver Medal / 2017 Book Awards)
Targeted Age Group: adult
Written by: Gail Cleare
Buy the ebook:
Buy the Book On Amazon
Buy the Book On Barnes & Noble/Nook
Buy the Book On Apple Books
Buy the Book On Kobo
Author Bio:
USA Today Bestselling author Gail Cleare used to write for newspapers, magazines, ad agencies, Fortune 50 companies and AOL. Now she writes fiction, and lives on an 18th century farm in Massachusetts with her family and dogs, cats, chickens, black bears, blue herons, rushing streams and wide, windy skies. When she's not writing, Gail is usually working in her organic vegetable garden or stalking wild creatures with a 300mm lens.
Cleare's debut novel is "Destined, a Novel of the Tarot"(2011), a magic realism romance. The audiobook, featuring narrator Marnye Young, will be released in 2018. Her second novel, USA Today Bestseller "The Taste of Air" is a womens' fiction family drama, and in 2017 it won Readers' Favorite awards for the book and the audiobook. "Love & Chocolate," a romance with recipes, is a new romantic comedy released in the fall of 2018.
Follow the author on social media:
Learn more about the writer. Visit the Author's Website
Facebook Fan Page
Twitter
This site contains affiliate links to products. We may receive a commission for purchases made through these links.