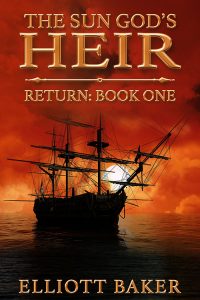 About The Sun God's Heir: Return (Book One):
Alexandre Dumas meets Horatio Hornblower and Ancient Egypt in this swashbuckling epic. (Kirkus Reviews)
For three thousand years a brother's hatred burns. In seventeenth century France two souls incarnate, one born the child of a prosperous merchant, the other, forces his way into incarnation, determined to continue a reign of terror begun long ago.
One remembers, one does not.
Buy the ebook:
Buy the Book On Amazon
Buy the Book On Barnes & Noble/Nook
Buy the Book On iBooks/iTunes
Buy the Book On Kobo

Author Bio:
Award winning novelist and international playwright Elliott B. Baker grew up in Jacksonville, Florida. Having bumped into many different experiences in this lifetime, from working as a lifeguard in the Catskills to weeding cotton while a dogfight raged overhead, he finds it hard to choose which life experiences ended up being more valuable. With four musicals and one play published and produced throughout the United States, in New Zealand, Portugal, England, and Canada, Elliott is pleased to offer The Sun God's Heir trilogy. A member of the Authors Guild and the Dramatists Guild, Elliott lives in New Hampshire with his wife Sally Ann.
Follow the author on social media:
Learn more about the writer. Visit the Author's Website
Facebook Fan Page
Twitter