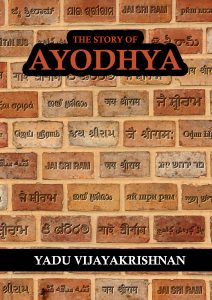 "About The Story of Ayodhya:
It narrates the story of the city of Ayodhya, India through three separate time periods. One in ancient India when Lord Ram, one of the Gods of Hindu pantheon, supposed to have been alive. The second one is set in 16th century India when Babur, a Muslim conqueror from Central Asia invaded India and destroyed the grand temple of Ram, situated in Ayodhya. On the exact same spot, a mosque (Babri Masjid) was built. Natives of the region were either taken as slaves or killed. Years later, a group of Hindus, rise up to take back Ayodhya and rebuilt their temple. In the modern time period, set in the late 20th century, Indian politics find itself in middle of this Ram/Babri issue. Each political party takes sides and the struggle tightens.
Targeted Age Group: 20-60
Written by: Yadu Vijayakrishnan
Buy the ebook:
Buy the Book On Amazon

Buy the Print Book:
Buy the Book On Amazon
Author Bio:
Yadu Vijayakrishnan is a writer, film maker, cinematographer, graphic designer and journalist. He had directed 5 short films by the time of his admission to media college. While in college, Yadu worked as one of the cinematographers of the Brazilian film 'Feio,Eu?. After graduation, he was employed in a TV channel for 2 years as Program Producer. There, he directed and produced over 20 historical TV documentaries and a 50-episode travelogue series. Yadu worked as a cinematographer for 2 Malayalam feature films. '21 Months of Hell', based on the torture methods of the Emergency era, was his first feature documentary.
Follow the author on social media:
Twitter
Instagram
This site contains affiliate links to products. We may receive a commission for purchases made through these links.