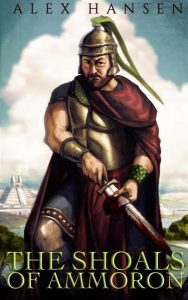 "About The Shoals of Ammoron:
The democratic rule of the judges in the capital city of Zarahemla has been overthrown. Chief Judge Pahoran has been exiled by a self-absorbed self-declared king whose power and influence are beginning to spread throughout the region. The nation is already struggling to ward off invasion along its southern borders and Pahoran fears that the new king will sacrifice the fringe territories in order to secure his own safety in the capital. The ousted chief judge's only hope to reestablish a responsible government that can save his people from slaughter may be to seek the support of a charismatic, vicious, and mercurial military commander named Moroni.
Targeted Age Group: 14+
Written by: Alex Hansen
Buy the ebook:
Buy the Book On Amazon

Buy the Print Book:
Buy the Book On Amazon
Author Bio:
Alex Hansen is a part-time writer from Pennsylvania who specializes in interpretive rewrites of elementary school science textbooks.
Just kidding. But he has written about demons, dystopias and drive-thrus, so maybe nothing is off-limits. Inspired by a broad range of authors including Stephen Crane, Oscar Wilde, Dean Koontz and K. A. Applegate, he strives to craft interesting and relatable tales that have a little bit of heart and plenty of comedy.