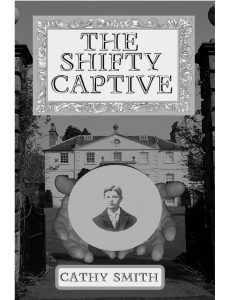 "About The Shifty Captive:
Con artist Shelton "Shifty" Sharpe is in over his head. One of his "odd jobs" makes him the eyewitness to a death curse. It'll take all his ingenuity and a good amount of fast talk to stay alive when he's taken captive by a black magician. Will he survive his initiation into the hidden world of the magical trade?
Targeted Age Group: 18-60
Written by: Cathy Smith
Buy the ebook:
Buy the Book On Amazon
Buy the Book On Barnes & Noble/Nook
Buy the Book On Apple Books
Buy the Book On Kobo
Buy the Print Book:
Buy the Book On Amazon
Author Bio:
Cathy Smith is an aboriginal writer who lives on an Indian Reservation within Canada. She has ten publication credits. She has also won an honorable mention from the L. Ron Hubbard's Writers of the Future contest and was a co-winner of the 2016 Imagining Indigenous Futurism Contest
Follow the author on social media:
Learn more about the writer. Visit the Author's Website
Facebook Fan Page
Twitter
Instagram
This site contains affiliate links to products. We may receive a commission for purchases made through these links.