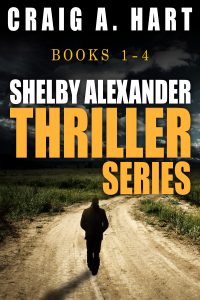 "About The Shelby Alexander Thriller Series: Books 1-4:
You don't lead a life full of action and close scrapes without making a few enemies.
This is the hard lesson ex-boxer and retired fixer Shelby Alexander learns when he travels to his boyhood town in northern Michigan to "settle down."
As it happens, the bad guys have other ideas.
This explosive, four book collection is, as one reviewer puts it, "A roller coaster ride, filled with drama, innuendoes, twists and turns, secrets, and betrayal, and a bombshell ending that will leave you spinning."
Throughout this pulse-pounding series, Shelby faces enemies both old and new, relying on the skills he's learned over the years to stay alive and bring his own brand of vigilante justice to the bad guys.
Full of blazing action, close calls, and memorable characters, the Shelby Alexander series is one you'll want to visit again and again.
Targeted Age Group: Adult
Written by: Craig A. Hart
Buy the ebook:
Buy the Book On Amazon

Author Bio:
Craig A. Hart is the stay-at-home father of twin boys, his most important job. Secondly, he is the author of the Shelby Alexander Thriller Series and the SpyCo Novella Series. A native of Grand Rapids, Michigan, Craig lives in Iowa City, Iowa.
This site contains affiliate links to products. We may receive a commission for purchases made through these links.