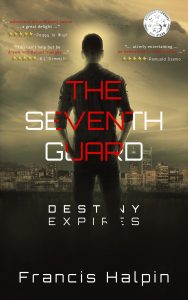 About The Seventh Guard: Destiny Expires:
A severely sarcastic and disgruntled Best Buy employee, Robert Lowden, unravels a new fate, far beyond his frustrating existence as a repair agent. After discovering a mysterious message hidden in the underpinnings of our everyday world, he is compelled to follow it . . . wherever it may lead.
He embarks on a dangerous and fast-paced adventure that tests the strength of his relationships and his physical and mental fortitude, as a menacing opponent works to end his journey and his life.
Buy the ebook:
Buy the Book On Amazon

Author Bio:
Francis is a native Oregonian. He currently lives in the Northwest Hills of Portland with his wife and three children. The family often spends time on the Oregon Coast in the small town of Manzanita, where they can sometimes be found browsing the book shelves of the local Cloud & Leaf Bookstore or hiking the trail to Neahkahnie Mountain. He has been a fan of science fiction from a young age and enjoys reading fast-paced, suspenseful thrillers of different genres.
Follow the author on social media:
Learn more about the writer. Visit the Author's Website
Facebook Fan Page
This site contains affiliate links to products. We may receive a commission for purchases made through these links.