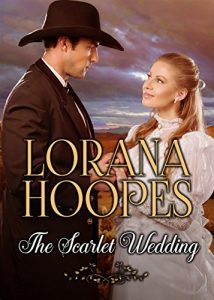 About The Scarlet Wedding:
Will there be a happily ever after?
William wanted nothing more than to marry Emma, but shortly after his proposal, his past comes back to haunt him. Unable to leave men in danger, William mounts up and rides again. Will he be able to fulfill his duty and get back to Emma?
Emma had no doubts when she said yes to William's proposal, but then things began happening to delay the wedding. When her sister gets sick, she wonders if these signs are God's way of telling her she shouldn't marry William.
Will the two find their happily every after or will events out of their control tear them apart?
Buy the ebook:
Buy the Book On Amazon

Author Bio:
Lorana Hoopes is a historical and contemporary inspirational author originally from Texas. She now lives in the Pacific Northwest with her husband and three children. When not writing, she can be seen kickboxing in her gym, singing at her church, or acting on stage.
Follow the author on social media:
Learn more about the writer. Visit the Author's Website
Facebook Fan Page
Twitter
Instagram
This site contains affiliate links to products. We may receive a commission for purchases made through these links.