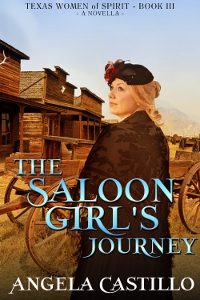 About The Saloon Girl's Journey:
Join Darla as she begins a new life of faith and redemption–but can she find true love?
Weary of the saloon girl life—and tired of being slapped around—Darla North decides to start over and let her new-found faith lead her. A friend sends her to Downs House, a place for 'unfortunate women.' Darla is offered a home—if she can behave herself.
Old habits are hard to break, but Darla is desperate to prove to everyone that she's changed, especially Ethan Downs, the owner's sensitive and sweet son. But when Darla's past threatens to catch up with her, she must decide to face the truth . . . or run away again.
Buy the ebook:
Buy the Book On Amazon

Author Bio:
Angela Castillo loves living in the small town of Bastrop Texas, and draws much of her writing inspiration from life there. She loves to walk in the woods and shop in the local stores. Castillo studied Practical Theology and Music at Christ for the Nations in Dallas, Texas. She was home-schooled all through high school and is the oldest of 7 kids. Castillo's greatest joys are her little girl and two boys. Castillo has been published in The First Line, Aardvark's Ark, Heartwarmers, Thema, and several other publications, and also has works available on Amazon in paperback and Kindle format.
Follow the author on social media:
Learn more about the writer. Visit the Author's Website
Facebook Fan Page
Twitter
This site contains affiliate links to products. We may receive a commission for purchases made through these links.