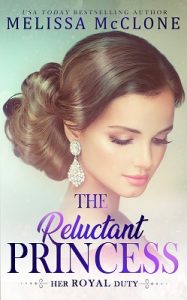 "About The Reluctant Princess:
She wants to work on a pit crew—not be a princess.
Mechanic Isabel "Izzy" Poussard's life revolves around cars. Determined to be a member of a racing team's pit crew, she'll do whatever it takes to make her dream come true. The last thing she expects is for a gorgeous guy to step out of a limousine and tell her she's a long-lost princess…and his wife.
Crown Prince Nikola "Niko" Kresimir of Vernonia wants one thing from Isabel—an annulment. The pretty American wearing grease-stained coveralls is too rough around the edges to be the future queen. Their marriage, the result of an archaic custom neither knew about, needs to end so he can modernize his country.
As sparks fly, Niko and Izzy fight their growing attraction for each other. Neither wants to remain in an arranged marriage, but that might be the only way to keep peace in the kingdom. Is a love match possible where all their dreams can come true? Or will aspirations and pride keep them from living happily ever after?
Targeted Age Group: 17
Written by: Melissa McClone
Buy the ebook:
Buy the Book On Amazon
Buy the Book On Barnes & Noble/Nook
Buy the Book On Apple Books
Buy the Book On Kobo
Author Bio:
With a degree in mechanical engineering from Stanford University, Melissa McClone worked for a major airline where she traveled the globe and met her husband. But analyzing jet engine performance couldn't compete with her love of writing happily ever afters. Her first full-time writing endeavor was her first sale when she was pregnant with her first child! Since then, she has published over forty romance novels with Harlequin and Tule Publishing Group. She's a USA Today Bestselling author and has also been nominated for Romance Writers of America's RITA® award. When she isn't writing, you can usually find her driving her minivan to/from her children's swim practices and other activities. Melissa lives in the Pacific Northwest with her husband, three children, two spoiled Norwegian Elkhounds and cats who think they rule the house. They do
Follow the author on social media:
Learn more about the writer. Visit the Author's Website
Facebook Fan Page
Twitter
This site contains affiliate links to products. We may receive a commission for purchases made through these links.