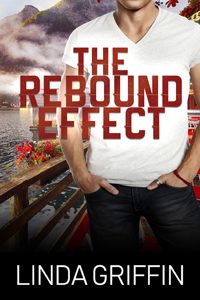 "About The Rebound Effect:
In the small town of Cougar, struggling single mother and veterinary assistant Teresa Lansing is still bruised from a failed relationship when Frank McAllister sweeps her off her feet.
Frank is a big-city SWAT officer who moved to Cougar only four months ago. He's handsome, charming, forceful, very sexy, and a bit mysterious. He had his eye on Teresa even before they met and is pushing for a serious relationship right away.
Teresa finds his intense courtship flattering, and the sex is fabulous, but she doesn't want her deaf six-year-old son to be hurt again. Her former fiancé cheated on her when he got drunk after being unjustly fired, but he loves her and her son, and the whirlwind romance is complicated by his efforts to win Teresa back.
And then there's the matter of the bodies buried at Big Devil Creek…
Targeted Age Group: Adult
Written by: Linda Griffin
Buy the ebook:
Buy the Book On Amazon
Buy the Book On Barnes & Noble/Nook
Buy the Print Book:
Buy the Book On Amazon
Buy the Book On Barnes & Noble/Nook
Author Bio:
Linda Griffin is a native of San Diego and has a BA in English from San Diego State University and an MLS from UCLA. She retired from a position as the fiction librarian for the San Diego Public Library in order to spend more time on her writing. Her stories have been published in numerous journals, including The Binnacle , Eclectica, Orbis, and The Nassau Review. The Rebound Effect is her second novel from The Wild Rose Press. Seventeen Days was published in October 2018. She enjoys Scrabble, movies, and travel, as well as the three R's—reading, writing, and research.
Follow the author on social media:
Learn more about the writer. Visit the Author's Website
Facebook Fan Page
Twitter
Instagram
This site contains affiliate links to products. We may receive a commission for purchases made through these links.