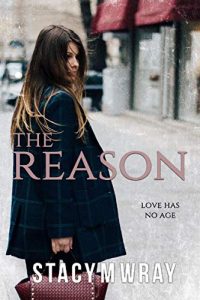 "About The Reason:
Lily Turner was married to her best friend. Trouble was, it wasn't much more than that. After the romance ended, so did the marriage.
When Lily met Casey Dunlap at a local café, their attraction was immediate, yet innocent, his sexy charm instantly drawing her in. When their harmless meetings slowly evolved into more than just friends, Lily struggled with the magnetic pull Casey had on her, not knowing what to do.
It should have been easy – she was no longer going to be married. She had no reason to drag her feet… Except that Casey was nearly fifteen years her junior – only ten years older than her teenage son.
What would her kids think? How could she possibly do this?
Targeted Age Group: New Adult
Written by: Stacy Wray
Buy the ebook:
Buy the Book On Amazon
Buy the Book On Barnes & Noble/Nook

Author Bio:
Stacy M Wray loves writing and reading anything romance – Judy Blume being one of the first authors she read in middle school. After all, a world without love, heartache and angst would prove a boring place to live.
Lover of gray and white cats, craver of all things sweet, enthusiast of hiking and camping, wife of an extremely supportive husband, and mom to two amusing adult children, she realizes life is pretty damn good.
She also appreciates that it's never too late to try something new. Never.
Follow the author on social media:
Facebook Fan Page
Twitter
Instagram