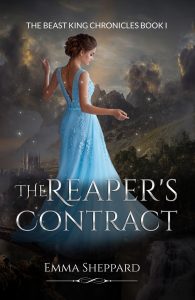 "About The Reaper's Contract:
A fantasy tale of romance and suspense, a young heroine must overcome a forced secret marriage to a dashing lord in order to survive under the rule of a mad king.
Lady Kylia Sampson is young, beautiful, and harbors a deep resentment towards the man who is bound to protect her. Lord Luke Elgin has his own secrets to protect, and no time for an impetuous young woman while the kingdom falls into civil war. Finding themselves being masterfully manipulated by the realm's greatest threat, the beauty and the warrior are thrown together in a battle to save their lives, and the kingdom.
Will Kylia and Luke be able to set their differences aside in order to survive? Or will they meet their doom at the hands of the mad king?
Enter the world of fantasy and romance that is The Beast King Chronicles.
Targeted Age Group: Young Adults, Adults
Written by: Emma Sheppard
Buy the ebook:
Buy the Book On Amazon

Buy the Print Book:
Buy the Book On Amazon
Author Bio:
Emma Sheppard lives with her husband, two cats, and dog in a northern Canadian city where the long winters give her the perfect excuse to curl up with a blanket and good book. Writing fantasy romances (with a touch of suspense) merges her love of all types of fiction. A big fan of the genre ~ who doesn't love a good love story with heroic sword fighting? ~ Emma loves her heroines and heroes to be witty, courageous, and with their faults.
Follow the author on social media:
Learn more about the writer. Visit the Author's Website
Facebook Fan Page
Instagram
This site contains affiliate links to products. We may receive a commission for purchases made through these links.