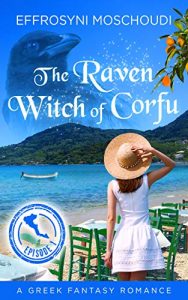 "About The Raven Witch of Corfu – episode 1:
(Episodes 1 and 2 FREE on February 19-23!)
A terrible evil lurks in the mountain…
Lizzie is not your average tourist. She may have just arrived on the idyllic Greek island of Corfu, but her mind is not on having a good time. Far from it, Lizzie has a daunting task to undertake: to claim back her twin brother who was kidnapped twenty years earlier on her previous visit. In a cave. By an evil witch.
When Lizzie sees her brother again, she receives the shock of her life. The witch has tricked her… As if this weren't enough, Stamatis, a handsome local, steals her heart to complicate her life even further…
"It's a step up from Mills and Boon – much more Mary Stewart than Barbara Cartland, with a bit of Gothic horror and Harry Potter-esque magic in the mix. And it's certainly a page-turner." ~Hilary Whitton Paipeti, author of In the Footsteps of Lawrence Durrell and Gerald Durrell in Corfu
Targeted Age Group: Over 18
Written by: Effrosyni Moschoudi
Buy the ebook:
Buy the Book On Amazon
Buy the Print Book:
Buy the Book On Amazon
Author Bio:
Effrosyni Moschoudi was born and raised in Athens, Greece. As a child, she loved to sit alone in her garden scribbling rhymes about flowers, butterflies and ants. Today, she writes books for the romantic at heart. She lives in a quaint seaside town near Athens with her husband Andy and a ridiculous amount of books and DVDs.
Her debut novel, The Necklace of Goddess Athena, has won a silver medal in the 2017 book awards of Readers' Favorite. The Ebb, her romance set in Corfu that's inspired from her summers there in the 1980s, is an ABNA Q-Finalist.
Effrosyni is a member of the writer's groups eNovel Authors at Work, ASMSG and The Fantasy & Scifi Network. Her novels are Amazon bestsellers, having hit #1 several times, and are available in kindle and paperback format.
Follow the author on social media:
Learn more about the writer. Visit the Author's Website
Facebook Fan Page
Twitter
Instagram
This site contains affiliate links to products. We may receive a commission for purchases made through these links.