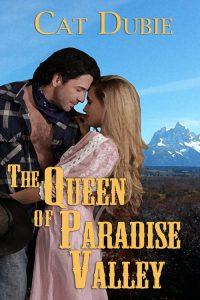 About The Queen of Paradise Valley:
Heiress to a vast Colorado cattle ranch, DIANA RENNIE means only to help her father by persuading DEL RUSSELL to leave town and never return.
But their midnight meeting goes awry when initial hostility erupts into blazing passion. As things spiral out of control her father barges in, accuses Del of stealing horses and personal valuables, and charges him with seducing his daughter.
Despite Diana's denials and pleas, her father arranges a quick shotgun wedding and a long prison sentence for Del.
When her father dies soon after, Diana takes over the running of the ranch, and within four years her life has taken on an idyllic regularity.
She has overcome her remorse at being party to Del Russell's imprisonment and buried her memories of that night. Proud and stubborn, she nurtures a tough and calm manner that conceals a mass of insecurities and fears she is determined no one will ever see.
She has a nasty jolt when Del reappears, not for revenge as she first worries, but as a legal partner of Paradise Valley Ranch. Her ranch. And when he talks about them being husband and wife, her worry magnifies. Yes, he is attractive, as appealing as the night they met and almost– No, no, never would she be a wife to him. She must find a way to force him out.
But Del isn't going anywhere. He's been through hell and now is back to claim one half the ranch, once stolen from his father and rightfully his, no matter what beautiful, treacherous Diana does or says to try to get rid of him.
He moves into the room that belonged to Diana's father, and she watches helplessly as he insinuates himself in all things pertaining to the ranch. She's a master of the icy stare, the belligerent manner, and yet there are episodes where she begins to thaw, when she unwillingly recalls the unleashed passion of their first meeting. When Del finds proof her father orchestrated his imprisonment and insisted on the marriage for his own advantage, tension and distrust magnify.
Though Diana fights Del–and her own burgeoning desires–they are thrust into an uneasy alliance when faced by a threat from land-greedy RICHARD LORD.
Del, whose first love died, has no intention of ever enduring the pain of love again, certainly not with the conniving woman who is his wife. Sure, he wants to bed Diana–their first meeting had shown her to be willing and wanting. Why she acts so prim and prudish now is a mystery to him. There are moments, though, when they come close to connecting on a physical level, and he figures it's only a matter of time before she gives up the straitlaced act.
It happens during the worst blizzard in years when Diana and Del, confined for days to the house, finally give in to their strong desires for each other. They discover sizzling ecstasy, and for a time, a fragile happiness.
As the year passes they face the furies of nature–grizzly attacks, wildfire, blizzards, drought; the worst of themselves when Diana accidentally shoots Del; the manipulations of Richard Lord, who professes to love Diana, and his amoral daughter who has set her sights on Del.
Diana and Del battle fiercely and love passionately, yet she is unable to completely trust him or acknowledge the depth of her feelings for him. Del's feelings for her seesaw from one extreme to the next and several times he gives up trying to love her, finding it's easier on his heart to hate her.
When Diana suffers a miscarriage and the ranch house that means the world to her burns to the ground, she develops a dependence on laudanum and morphine fed by Richard Lord. She breaks free of his grasp and goes to Del, who in a harrowing episode manages to free her of the drug dependence. During this ordeal, she undergoes an epiphany and can finally confide her deepest fears to Del. And she and Del at last can admit they love each other.
Diana is charged with murdering Richard's daughter, and when Del disappears she is tried for his murder, too. As she faces her blackest hour, fearing she has found love at last only to lose it again, Del appears with the real killer and they are gloriously reunited.
Diana and Del find peace in the present, hope for the future, and most importantly, the ability to love with all their hearts.
Buy the ebook:
Buy the Book On Amazon
Buy the Book On Barnes & Noble/Nook
Buy the Book On Kobo

Author Bio:
Cat Dubie's love of words began early – she was making rhymes soon after learning to talk. With a crayon in hand she first drew stories, with a pencil she wrote them. As for reading, she was the girl who always had her nose in a book, the one who read with a flashlight under the covers or, when the moon was full, sat by a window for hours laughing, crying, loving characters whose adventurous lives wouldn't let her sleep.
She has traveled the world in books. She has traveled back in time and into the future in books. Her keen interest in history determined the nature of her books, and the first Historical romance novel she read, settled the genre.
After working for various levels of government, she retired and now lives in the beautiful province of British Columbia, where she indulges in her need for creating stories about romance, adventure, passion, mystery, love…
Follow the author on social media:
Learn more about the writer. Visit the Author's Website
Facebook Fan Page
Twitter
This site contains affiliate links to products. We may receive a commission for purchases made through these links.