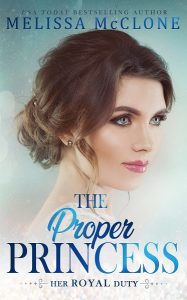 "About The Proper Princess:
She's been a proper princess—but she wants to rebel.
After the death of her fiancé, Princess Madeleine knows a loveless, arranged marriage awaits her. She's resigned to her fate until she meets her intended husband. Crown Prince Enrique is gorgeous, but he comes on way too strong, says the wrong things, and fumbles with apologies. He's more court jester than Prince Charming. How can she marry him?
Enrique might be self-centered and lack social skills, but he's trying to do better—for himself, his country, and his future wife. Despite their royal union being a political necessity, he wants his marriage with the captivating Madeleine to be a love match. He's willing to do whatever it takes to woo her. How hard can it be to win his princess bride's heart?
Nearly impossible, he discovers, because Madeleine seems unwilling—or unable—to give him her heart. On their wedding day, instead of exchanging vows, will the royal couple say goodbye?
Targeted Age Group: 17+
Written by: Melissa McClone
Buy the ebook:
Buy the Book On Amazon
Buy the Book On Barnes & Noble/Nook
Buy the Book On Apple Books
Buy the Book On Kobo
Author Bio:
With a degree in mechanical engineering from Stanford University, Melissa McClone worked for a major airline where she traveled the globe and met her husband. But analyzing jet engine performance couldn't compete with her love of writing happily ever afters. Her first full-time writing endeavor was her first sale when she was pregnant with her first child! Since then, she has published over forty romance novels with Harlequin and Tule Publishing Group. She's a USA Today Bestselling author and has also been nominated for Romance Writers of America's RITA® award. When she isn't writing, you can usually find her driving her minivan to/from her children's swim practices and other activities. Melissa lives in the Pacific Northwest with her husband, three children, two spoiled Norwegian Elkhounds and cats who think they rule the house. They do!
Follow the author on social media:
Learn more about the writer. Visit the Author's Website
Facebook Fan Page
Twitter
This site contains affiliate links to products. We may receive a commission for purchases made through these links.