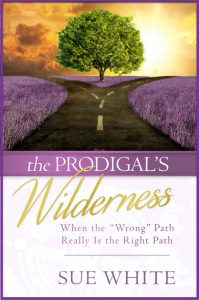 "About The Prodigal's Wilderness: When the "Wrong" Path Really Is the Right Path:
PARABLE OF TRANSFORMATION:
Have you ever felt like you've missed your calling, or made mistakes in choosing your life's path? Do you feel like you're not where God wants you to be? Maybe you feel like you're stuck in a spiritual desert?
If so, this book will give you hope for your future, encourage you, help you choose the right path, and understand your identity as a child of God.
It uses the parables of Jesus, including the parable of the lost sheep, the parable of the lost coin, and the parable of the prodigal son to derive principles of personal transformation that you can apply directly to your life today.
ARE YOU SUFFERING TODAY?
We all experience life transitions, and often those transitions are painful and unpleasant.
• Are you confused, overwhelmed and struggling to make sense of life's challenges?
• Are you grieving because your spouse, child or some other loved one has died?
• Are you experiencing a major health crisis?
• Do you have financial problems, maybe even a bankruptcy?
• Do you ever wonder: "God, where are you?"
• Have you made some poor life choices that negatively affect your life?
• Are you afraid that God is angry with you? That he won't forgive you? Guess what – God is a God of forgiveness and mercy.
• Do you feel like you're in a spiritual desert? Are your prayers bouncing off the ceiling? Has your relationship with God grown cold?
• Do you feel like you're all alone in the world and no one understands you? Do you feel criticized, rejected or ostracized by friends or family?
• Have you lost hope? Don't know what to do or where to go?
• Are you in need of transformation and healing?
If any of these situations apply to you, this book is for you!
God loves you and has a plan for your life – even when life doesn't go according to your plan, and when it is confusing, stressful and overwhelming.
This book addresses universal life questions such as "Who am I?" "Where do I belong?" "What is the purpose and meaning of life?"
Take the first step in your personal transformation and being your higher self. Discover how God is transforming you and how he can create a wonderful future for you – just like he did for the prodigal. This book will increase your faith and trust in God and result in your spiritual growth.
Targeted Age Group: 35+
Written by: Sue White
Buy the ebook:
Buy the Book On Amazon
Buy the Print Book:
Buy the Book On Amazon
Author Bio:
Ms. White has four earned degrees including a Masters in Theological Studies and a Masters in Marriage and Family Therapy.
She relates to the skeptics of the world – those who need to ask questions and challenge the status quo in order to find the truth.
Her favorite disciple is Thomas, otherwise known as "Doubting Thomas".
She currently leads a small group Bible Study for people in her neighborhood. She recently used The Prodigal's Wilderness book as a supplemental text to Luke chapter 15.
Very positive feedback from the group indicated that they enjoyed the material, learned a lot about Biblical history and culture, and found numerous personal applications.
Her background allows her to draw insights from multiple disciplines and to integrate them into a cohesive whole.
Follow the author on social media:
Learn more about the writer. Visit the Author's Website
Facebook Fan Page
Twitter
This site contains affiliate links to products. We may receive a commission for purchases made through these links.