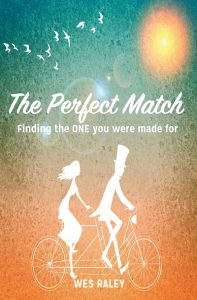 "About The Perfect Match: Finding the ONE you were made for:
Are you ready to find the one you were made for?
The pain of wondering if there's ever going to be a match for you can be unbearable. Being single can raise a whole host of questions, fears, and doubts.
Will I be single forever? Does God care? Have I missed the one?
But you can have clarity about your future!
With practical insight grounded in scripture and painful personal experience, this book will help you discover:
-What the Bible teaches about perfect matches.
-If God has a match for you.
-How to find the person God made you for.
-What you can do right now to prepare for your match.
-How to enjoy this season of singleness instead of hating it.
The Perfect Match is rooted in the Biblical wisdom that while there are no perfect people today, there are still perfect matches.
If you are single, the scriptures give incredible insight about things you can do right now to prepare for your match.
This book was written for the people who at their worst moments have asked the question, "Is there anyone out there for me?" and at their best and most honest moments have admitted that deep down, they hope there is.
This is for people who have spent countless nights alone, wondering if this is how they are to live out the remainder of their days.
This is for the people who are dating or engaged to someone they are not made for but have hung on because they cannot bear the pain of being alone.
This book was written for you.
I know what it's like. I know the feeling of wondering if you will be alone forever or if marrying the person you are dating would be settling.
I know the feeling of wondering if you missed the right person or if there even is a "right" person to begin with.
I believe that I have a wealth of wisdom when it comes to finding the person that God wants you to be with because I have been in your shoes.
After going through a painful breakup with a woman I dated for over three years, I know how hard it can be to find the right one.
As hard as it was, the waiting I experienced prepared me for the day when I finally met my perfect match.
I have counseled many who feared lifelong singleness but eventually found their match as they patiently waited on God and trusted His timing.
Through it all, I have found God's Word to be completely relevant to relationships.
In addition to my own story of finding my match, I have witnessed those who previously were heartbroken find joy as they patiently waited for the person God had for them.
There is nothing quite like watching someone find their perfect match.
May the practical wisdom in this book help you embrace the destiny God has for you and prepare you for a beautiful life with the person you were made for.
This book will bring you incredible clarity as you wait for God to bring about your perfect match!
"It can transform your life."
Dr. Jim Taylor
"It is one of the most encouraging and practically helpful books I have ever read."
Amazon Customer
Targeted Age Group: 18-65
Written by: Wes Raley
Buy the ebook:
Buy the Book On Amazon

Author Bio:
Wes Raley is a self-published author of two books about God's will for your life and relationships. Wes and his wife Korie live in Indiana and have four young children: Isaac, Grace, Luke, and Valorie. After many years of waiting, they finally found each other and are happily enjoying God's perfect match. They continue to coach singles and couples from the wisdom of God's Word and the lessons learned through their times of singleness, dating, engagement, and marriage. Openly sharing their struggles and breakthroughs has helped many people walk in healthy, fulfilling, God-centered relationships.
Follow the author on social media:
Learn more about the writer. Visit the Author's Website
This site contains affiliate links to products. We may receive a commission for purchases made through these links.