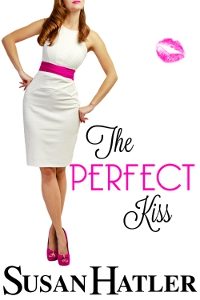 "About The Perfect Kiss:
Olivia Lane wants to become the premiere event planner for Blue Moon Bay's rich and famous. But first she has to impress Greta von Strand—millionaire and bestselling author of Men: Who Needs Them?—by pulling off a two-week luxury getaway for women. The retreat's all about getting women to embrace their independence by nurturing themselves and each other, and Olivia, who's never been lucky-in-love herself, is looking forward to it.
The retreat and Olivia's goals hit a roadblock, however, when sweet-talking firefighter, Brody Mitchell, and his smoking hot friends take up residence at the mansion next door. Now, she must successfully keep Greta and the other women away from their male neighbors, fight her attraction to Brody, and pull off the retreat of a lifetime in one fell swoop.
It's a battle of the sexes she's determined to win, otherwise she could lose everything—including her heart.
Targeted Age Group: General adult
Written by: Susan Hatler
Buy the ebook:
Buy the Book On Amazon
Buy the Print Book:
Buy the Book On Amazon
Author Bio:
SUSAN HATLER is a New York Times and USA TODAY bestselling author, who writes humorous and emotional contemporary romance and young adult novels. Many of Susan's books have been translated into German, Spanish, French, and Italian. A natural optimist, she believes life is amazing, people are fascinating, and imagination is endless. She loves spending time with her characters and hopes you do, too.
Follow the author on social media:
Learn more about the writer. Visit the Author's Website
Facebook Fan Page
Twitter
This site contains affiliate links to products. We may receive a commission for purchases made through these links.