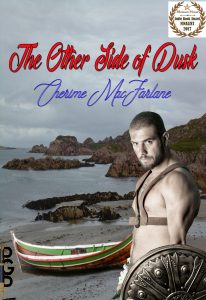 "About The Other Side of Dusk:
McGrath House Indie Book Award Finalist 2017
NOTE: May contain triggers. A boy sold as a slave is used by a Roman woman to get pregnant so the master may have an heir. But it all backfires when an old soldier who serves her household takes pity on the boy. He teaches him to fight and when the child is born, helps the slave escape with his son. He is home but…his people aren't sure he is fit to take his father's place when the time comes. The Picts are ready to revolt against Roman rule and the Scotti may be caught in the middle. To make matters worse, the master is seeking his stolen son.
Targeted Age Group: 18
Written by: Cherime MacFarlane
Illustrated by: C. MacFarlane
Buy the ebook:
Buy the Book On Amazon
Buy the Book On Barnes & Noble/Nook
Buy the Book On Smashwords
Buy the Book On Apple Books

Buy the Print Book:
Buy the Book On Amazon
Author Bio:
Meet Award Winning, Best Selling Author Cherime MacFarlane. A prolific multi genre author, she has a broad range of interests that reflect her been there done that life. Romance, Historical Fiction, Fantasy, Paranormal, all sorts of characters and plots evolve from a vivid imagination.
As a reporter for the Copper Valley Views, Cherime MacFarlane received a letter of commendation from the Copper River Native Association for fair and balanced reporting. She was part of the Amazon Best Selling in Anthologies and Holidays, and Fantasy Anthologies and Short Stories. The Other Side of Dusk was a finalist in the McGrath house award of 2017.
Follow the author on social media:
Learn more about the writer. Visit the Author's Website
Facebook Fan Page
Twitter