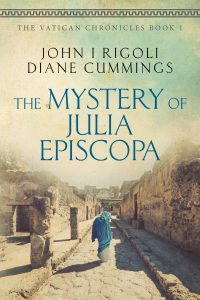 About The Mystery of Julia Episcopa:
In a small port town near Rome, in the year 94 AD a woman is murdered for the secrets she holds and is erased from history. Two-thousand years later, archeologist Valentina Vella stumbles across a misplaced parchment. Julia's legacy is revealed and with it an ancient heresy that threatens to topple the Papacy.
Buy the ebook:
Buy the Book On Amazon

Author Bio:
John Ignatius Rigoli's experiences as both a cradle Catholic and former US Naval officer informed his world view in a rather unexpected manner, opening his eyes to the proposition that those who seek power are the last people who should hold it. John is an unabashed social justice advocate, outspoken liberal, and a patriot -and he sees no dichotomy in this. As a talented and inquisitive amateur historian, John became interested in the stories of the earliest womenin the Church.
Diane Cummings is a California girl, a UCLA alum, and is currently sweating in Atlanta, Georgia, with the world's smallest Persian cat. Diane has worked as a radio reporter and a TV news director. Deciding that truth was too much stranger than fiction, she turned in her microphone and press pass and set about applying her passion for writing and editing to the world of literature. Diane has edited or ghostwritten more than 50 titles – and now she wants her name on the cover. The Vatican Chronicles Trilogy has encompassed six years of research and writing, and she hopes you enjoy Book 1 – The Mystery of Julia Episcopa as much as she has enjoyed writing it.
Follow the author on social media:
Learn more about the writer. Visit the Author's Website
Facebook Fan Page
Twitter
This site contains affiliate links to products. We may receive a commission for purchases made through these links.