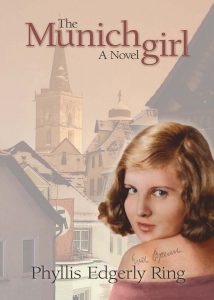 About The Munich Girl:
The past may not be done with us. Fifty years after the end of World War II, Anna is plunged into the world of the "ordinary" Munich girl who was her mother's confidante — and Hitler's lover — and finds her every belief about right and wrong challenged." Historical fiction that reads like memoir." – Philadelphia Inquirer.
Buy the ebook:
Buy the Book On Amazon

Author Bio:
Phyllis Edgerly Ring left a part of her heart in her childhood home of Germany. She studied plant sciences and ecology, worked as a nurse, been a tour guide, served as program director at a Baha'i conference center, and taught English to kindergartners in China. Her hundreds of articles and essays have appeared in such publications as Christian Science Monitor, Ms., Writer's Digest, and Yankee magazines. She is the author of two novels, a children's storybook, and two nonfiction books about creating balance between the spiritual and material aspects of our lives.
Follow the author on social media:
Learn more about the writer. Visit the Author's Website
Facebook Fan Page
Twitter
This site contains affiliate links to products. We may receive a commission for purchases made through these links.