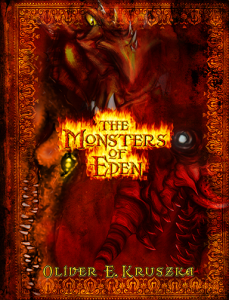 About the Monsters of Eden:
Enter a mysterious world of monsters. The pages are alive with interactivity, puzzles, and a few surprises. Making your way through this book is an experience, it is not simply a read through. There is much that lies below the surface. The inquisitive mind will find deeper clues and uncover secrets to a place that is titanic in scale. The vision is to be shared with your friends, your family, your children. It is a place where the impossible became possible and I invite you to join into helping others discover the place called that is called Eden.
Buy the ebook:
Buy the Book On iBooks/iTunes

Author Bio:
I am an artist, writer, designer, and cartographer. I have been making maps professionally for 13 years. I interned as a teenager with several video game companies, but never found my niche.
So I used my skills to create my own world and build upon that world and include others eventually into a real entity,
Follow the author on social media:
Learn more about the writer. Visit the Author's Website
Facebook Fan Page
Twitter