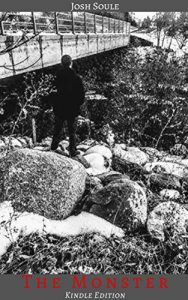 "About The Monster:
Josh Soule's premiere thriller, The Monster, follows the psychological decline of a nameless narrator who tells his tale of being stalked and framed by a local serial killer.His relationships with friends and family deteriorate, and he soon is required to fend for himself. As days tick by, the time must come to find his way out of this problem before he ends up in prison or worse…
Targeted Age Group: 16-99
Written by: Josh Soule
Buy the ebook:
Buy the Book On Amazon
Buy the Audio Book:
Buy the Book On Amazon
Buy the Book On Audible
Buy the Print Book:
Buy the Book On Amazon
Buy the Book On Barnes & Noble/Nook
Buy the Book On Book Baby
Author Bio:
Josh Soule is a self-published author from Wyoming.
He has worked in Law Enforcement, security, social work, and currently in education as a Behavior Specialist. Josh enjoys taking his experience and creating psychological, thriller, crime, and suspense stories.
Josh has earned a Master's Degree in Business and is beginning the journey to earn a second degree in education.
Follow the author on social media:
Learn more about the writer. Visit the Author's Website
Facebook Fan Page
Twitter
Instagram
This site contains affiliate links to products. We may receive a commission for purchases made through these links.