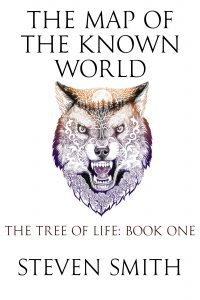 "About The Map of the Known World:
Fourteen-year-old Elowen Aubyn lives a miserable life in an orphanage. Bullied and lonely, she dreams of escape and adventure, little realising her dreams are about to come terrifyingly real…
When the mysterious Tom Hickathrift gives Elowen an ancient map, she is forced to flee. For the map holds a secret, a secret for which many are prepared to kill, a secret that could change the world for ever…
The opening part of an epic fantasy trilogy, The Map of the Known World is a tale of magic, adventure and friendship.
Targeted Age Group: 12+
Written by: Steven Smith
Buy the ebook:
Buy the Book On Amazon
Buy the Book On Barnes & Noble/Nook
Buy the Book On Smashwords
Buy the Book On Apple Books
Buy the Book On Kobo
Buy the Print Book:
Buy the Book On Amazon
Author Bio:
I am the author of the Tree of Life series of fantasy books and the historical fantasy novel, This Sacred Isle. The novels are all available to purchase in e-book and paperback formats. I publish my books through my monster field press imprint. I am currently writing my next novel, a SF story called 'Second Sun'.
Aside from writing, I enjoy reading a wide range of books, watching films, visiting museums and art galleries, and spending time with family and friends. I also support Ipswich Town Football Club – sadly not always an enjoyable experience…
I live in Suffolk, England with my wife, daughter and cat.
Follow the author on social media:
Learn more about the writer. Visit the Author's Website
Twitter
This site contains affiliate links to products. We may receive a commission for purchases made through these links.