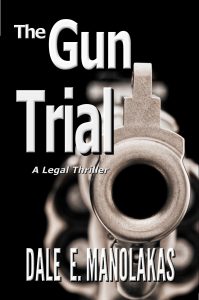 About The Gun Trial:
☆Kindle Unlimited☆ [4.6 Stars ~ 37 Reviews USA]
Inspired by a real case in this legal thriller, a Yale student's tragic end triggers a deadly fight for justice against gun sellers and an attack on the Second Amendment right to bear arms. As guns fire and lives shatter, media wars and violence drive this legally pivotal trial against gun sellers. Only the small Los Angeles firm of Kraus & White will take on the cutting-edge case against the national gun establishment and corporate oligarchs. Amidst the firm's internal strife, lead trial lawyer Sophia Christopoulos and her team fight the well-financed, corrupt opposition in hostile Bakersfield, California. Social tensions fuel the already volatile mix compounded by demonstrations, deaths, scandal, and the ratings-hungry media. Fighting for her life and her firm's survival, Sophia pushes the Second Amendment case to a climactic trial—confronting the ubiquity and difficulty of gun violence and guns themselves in America. [First in the legal thriller series—Lethal Lawyers—Top 100 Amazon Legal Thriller for a Year]
5-Star Reviews: "Page-turning suspense," "Read this one. Drama, Pathos … Sensational … A Great Entertainment Bargain," "Great read, great characters, story moves at a fast pace looking forward to next book!" "Remarkably complex novel. Through vivid characters and numerous plot twists, it explores some of the most difficult issues our nation faces." BUY NOW
Buy the ebook:
Buy the Book On Amazon

Author Bio:
TOP 100 LEGAL THRILLER AUTHOR
After a lifetime of writing poetry, books, nonfiction, and legal documents, author Ray Bradbury's friendship and encouragement finally inspired Dale E. Manolakas to pursue writing as a career.
Dale E. Manolakas earned her B.A. from the University of California at Los Angeles, and M.A., M.S., Ph.D. and J.D. degrees from the University of Southern California. She is a member of the California Bar, had the privilege of clerking for The Honorable Arthur L. Alarcón at the United States Court of Appeals for the Ninth Circuit, was a litigator in two major Los Angeles law firms, a senior appellate attorney at the California Court of Appeals, and an Administrative Law Judge. She is also a member SAG-AFTRA and Actors' Equity Association.
Follow the author on social media:
Learn more about the writer. Visit the Author's Website
This site contains affiliate links to products. We may receive a commission for purchases made through these links.