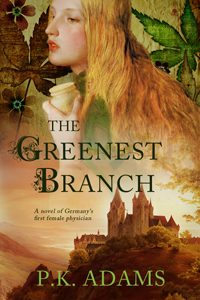 "About The Greenest Branch, a Novel of Germany's First Female Physician:
In the year 1115, young Hildegard arrives at the Abbey of St. Disibod in the German Rhineland hoping to become a physician. But she soon finds out that as a girl she will not be allowed to attend the monastic school; instead, she must stay at the women's convent, isolated from the rest of the community and from the town.
But Hildegard refuses to be sidelined. Against fierce opposition from Prior Helenger, she secures an apprenticeship with Brother Wigbert who runs the infirmary and is in dire need of a capable assistant. Under his supervision, she begins to train as the abbey's first female doctor.
When Hildegard's reputation starts to spread throughout the Rhineland, Helenger's persecution escalates as he fears losing control over the women's community. But that is not the only challenge she must grapple with. She has also developed feelings for Volmar, a fellow Benedictine novice, that force Hildegard to re-examine the fundamental assumptions she has made about her life. Is the practice of medicine within the monastic confines her true calling, or is a quiet existence of domestic contentment more desirable?
With the pressures mounting and threatening to derail her carefully-laid plans, Hildegard becomes locked in a struggle that will either earn her an unprecedented freedom or relegate her to irrevocable oblivion.
The Greenest Branch is the first in a two-book series based on the true story of Hildegard of Bingen, Germany's first female physician and one of the few women to attain that position in medieval Europe. Set against the backdrop of the lush oak forests and sparkling rivers of the Rhineland, it is a tale of courage, strength, sacrifice, and love that will appeal to anyone who enjoys strong female protagonists in historical fiction.
Targeted Age Group: 18+
Written by: P.K. Adams
Buy the ebook:
Buy the Book On Amazon

Buy the Print Book:
Buy the Book On Amazon
Author Bio:
I am a Boston-based historical fiction author. I have a blog where I share my writing journey, review historical fiction, host guest blogs from fellow authors in the genre, and advocate for making more non-famous women the subjects of historical novels. When not writing, I can be found drinking tea, practicing yoga, watching British murder mysteries on Netflix … although usually not at the same time.
The Greenest Branch is currently a semi-finalist for the 2018 Chaucer Book Awards for Pre-1750 Historical Fiction. T
Follow the author on social media:
Learn more about the writer. Visit the Author's Website
Facebook Fan Page
Twitter