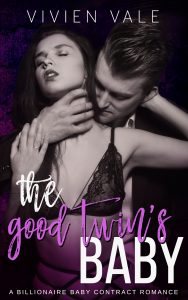 About The Good Twin's Baby:
You think you want my brother
Think that I'm just bad
But baby, you have no idea
Just how good bad can be…
I'm hard for her the moment she walks in my life.
She needs a baby, I need a wife.
But I'm not the only one after her
My slimeball twin brother has her in his sight.
He's going to use her and hurt her
Not this time. Not without a fight.
I'll do whatever it takes to protect her.
Wrap my arms around her and make her mine.
Anyone want to get in my f%$*ing way?
I'll f#@k you up. I swear you'll rue the day.
I may be bad. But I'm the good twin in this.
And I'll take her and show her in every way.
Till the day she's got little twins of mine growing inside.
Buy the ebook:
Buy the Book On Amazon

Author Bio:
Hi. My name is Vivien Vale (but you already knew that) and I've wanted to write steamy romance novels ever since I used to sneak them from my moms bookshelf when I was a kid.
I wasn't able to until recently.
I have two little ones that I work hard at adulting for and being a Mom throughout the day.
But when they go to sleep, Viv comes out as my naughty fantasies come out to play.
If you would like to follow me for a free book, sign up at http://www.subscribepage.com/VivienVale
Follow the author on social media:
Facebook Fan Page